An interview is a chance for an employer to see if you're the right person for the job. It's your chance to make a good impression and show what you have to offer. You can also use it to help you decide if the job and the company are right for you.
There are different types of interviews, including:
Telephone – an effective way to screen job applicants before inviting them to a face-to-face interview. It's often used to check what you've written on your CV and test your telephone manner and communication skills
Face-to-face with one person – the most popular type of interview
Online interview - you're interviewed online, using an application like Microsoft Teams or Zoom. The interview follows a similar format to a face-to-face interview
Panel interview - face-to-face, with 2 or more people and can include a presentation
Group interview – is similar to a face-to-face or panel interview, but with several people being interviewed at the same time. This format is often used if an employer has several similar jobs to fill at the same time
Assessment day ¬- is a combination of tasks and activities that test your suitability for the job. You'll have the chance to demonstrate a wider range of skills than you would have been able to during a traditional face-to-face interview
Interview questions
Employers use different types of questions when interviewing. They can include:
Competency-based - the interviewer has a list of set questions, each focusing on a specific skill that they require, and your answers are marked against pre-determined criteria. You'll be asked to give examples which show you have the skills and experience needed for the job, the idea being that previous experience is an indicator of future performance
Strengths-based - is a more personal interview, which focuses on what you enjoy doing rather than what you have done. This type of interview gives you the opportunity to talk about your natural strengths and the situations in which they are best used
Technical - are often used for jobs in IT, science, or engineering. They test your job-related knowledge, and the questions are usually specific to the job you have applied for
Situational/behavioural - test how you would deal with a particular situation and are often used to assess soft skills like time management, communication or conflict resolution
Values-based - commonly used for health and care jobs, particularly in the NHS, to confirm that you share the values and understand the culture of the organisation
Motivational - these help an employer to see what drives you and are designed to find out how much you know about a job, and what will push you to succeed in it
You can find more help on how to answer common interview questions in the Useful Links section below.
Preparing for the interview
Preparation is key. If you do your research and preparation beforehand, you will feel more relaxed in the interview and more confident that you will be able to successfully answer any questions you are asked
Research the company by looking on their website to find out more about them and what they do. Often interviewers will start by asking the question "tell me what you know about our company". Ensure that you have memorised four to five facts about the company that you can tell them
Ensure you have read the job description and person specification and that you know the skills and qualities the employer is looking for
Have examples ready that you can give which show how your skills and experience meet each separate requirement on the job description and person specification. These might include difficult situations that you have had to deal with, when you have worked as a team, or problems that you have had to solve. If you don't have direct experience of some requirements talk about the skills and experience which you have that are transferable instead. You may find the STAR method helpful for this
Read through your CV or application form beforehand and think about things that the employer may ask you about
If you are required to deliver a presentation practise your timings, keep a back-up copy and take printed versions with you, just in case there are any problems on the day
Practise answering questions with a friend or family member
Think of 2 or 3 questions that you want to ask at the end of your interview this shows that you're enthusiastic about the job
Dress smartly and wear something suitable and comfortable
If you are attending the interview in person, make sure that you know what time it starts, who you need to ask for when you arrive and who will be interviewing you. Also, research travel arrangements and ensure that you allow enough time to get there, including a little extra in case of any delays. If you get there early, wait nearby and go to reception five minutes before the time of your interview. Don't arrive any earlier, unless they have said that you are okay to. If you are delayed and arrive late ensure that you apologise to the interviewer
If you are attending the interview online ensure that you have your computer set up in advance, know the package that you will be using for the interview, and be sat somewhere suitable (away from noise and distractions), ideally with a neutral background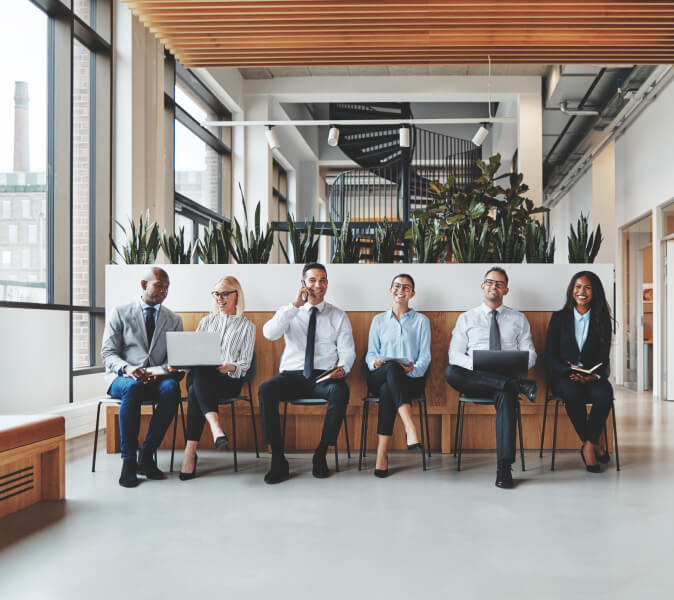 In the interview, remember the following:
Ensure your mobile phone is turned off
Greet the interviewer with a handshake and a smile and maintain eye contact throughout the interview
Use the right language and tone for an interview situation, try to avoid using slang and abbreviations, don't be overly familiar or too casual, and think about your body language, including sitting up straight
Have your CV handy to refer to if you think it will make you feel more confident. Likewise, take a pad and pen into the interview in case you want to make any notes but, be careful to look at the interviewer and not down at your pad. Also, avoid just reading your answers off your CV
Listen carefully to questions and think before you begin your answers. You can always write the questions down, especially if there is more than one element to the question. It can help to remind you what all elements of the question are, so you don't miss anything out
If you do not understand a question, ask the interviewer to repeat it or explain further
Remember to use STAR method to answer questions about your skills
Be positive about your experiences - if you've faced difficult situations, share what you learned from them. Avoid being negative about previous colleagues or employers
Do not exaggerate or come across as over-confident, it's always best to tell the truth
Remember to ask a couple of questions when you're invited to do so - choose questions that make you sound keen, like 'what opportunities are there for training with your company?', rather than ones about pay or holidays at this stage
At the end of the interview, thank the employer for their time and tell them that you are looking forward to hearing from them
Keep track of your applications and interviews and make notes of how you felt your interview went a, how you feel you could improve and of any feedback from the interviewers. This can help your development and be a really good way of perfecting your interview technique
Good Luck!
Useful Links
The National Careers Service have some great interview tips. They also have some fantastic advice on how to answer common interview questions.
Prospects has some excellent interview advice on their website and Reed has some useful information on common interview questions and answers.
Are you a young person planning for your post-16 training and education journey? If so, visit our partner website >Log on | move on> for some interview tips.
Are you an adult living in the East Riding? If so, visit East Riding Adult learning and employment support to see what help is available to you.
Are you an adult living in Hull? If so, visit Hull City Council Training and adult education support or Hull City Council Jobs and careers support to see what help is available to you.
Hear advice on interview techniques from local companies KCOM and Reckitt on Hire Me on YouTube.